Ok, here's my first ever review of a digital scrapbook kit.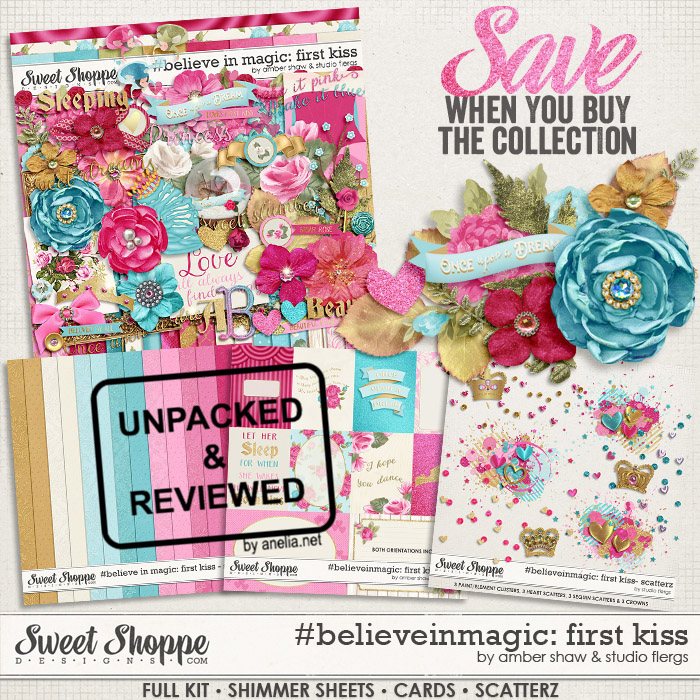 When it comes to the Believe in Magic (BIM) digital scrapbook collections by Amber and Flergs I'm really fascinated. The theme, the colors, the elements — everything on the preview makes me want to HAVE it!
I try to purchase the BIM collections (not the kit only) whenever I can. I think
First Kiss
was one of my first Believe in Magic (BIM) purchases.
Let's see what's inside this digital scrapbook beauty…
Papers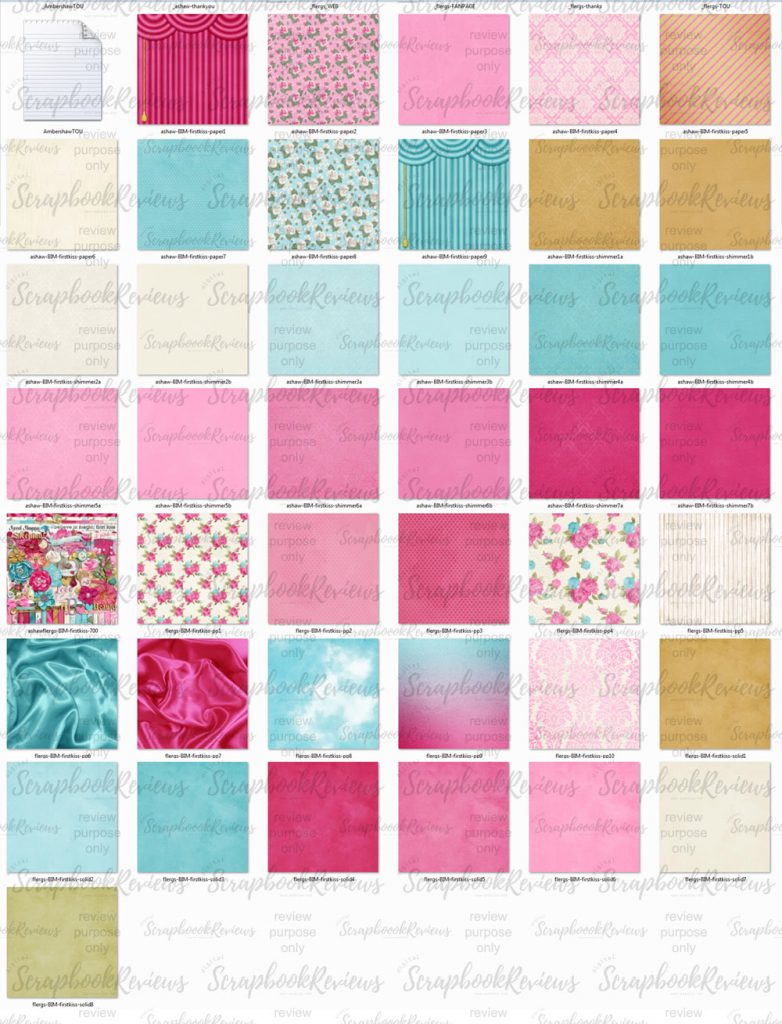 42 papers total = 8 solids, 14 shimmers and 19 patterned.
Let's take a closer look at the so called "shimmers":
As you can see, those are basically light patterned paper with delicate shimmery feel. They sparkle beautifully on your page to make it super special.
To be honest, I sometimes purchase the whole collection BECAUSE of the shimmers — they really tempt me 'cause I love me some bling 🙂
Let's move on to…
Cards
18 cards total.
As a non-native English speaker I honestly don't pay much attention to cards because I don't usually journal in English on my pages but that's a whole different story.
However, there's those blank cards that let you write whatever you want and I admit I love them. As you can see, this kit has 5 blank cards – each in a horizontal and vertical direction which makes a total of 10 blanks cards for some free journaling and documenting — that's sooo cool!
The others are nice magical designs and/or quotes to enhance any princess or themed layout.
If you are into pocket scrapping, then those cards are a must for your projects.
Scatterz
9 scatterz total.
Oh my GOD!!! I seriously think Flergs should offer Kit+scatterz in a bundle because those are definitely a must for me.
I have noticed that these beauties enhance the outlook of my pages at an instant. If you use a plain/solid background and insert a scatter behind the photo, your page is almost complete.
Those are just the three pre-clustered designs and there's 6 more scattered stars/hearts/sequins which you already saw in the first image above.
Elements
75 total (excluding the scatters)
Whenever I think of a princess page I think of flowers, ribbons, glitter and sparkle. The romantic First Kiss scrapbook collection has it all when it comes to elements. There are those pretty banners, two pink bows, a variety of buttons, labels and glittery accents and LOTS of amazingly beautiful flowers. I cannot imagine a princess layout without pretty florals.
There's also those royal elements like the crowns, ornate frames and trims. A few Sleeping beauty related elements, like the spinning wheel, are also included. To complete each and every layout there's also a variety of word strips and titles — all magical and all beautiful.
CONCLUSION
Was I satisfied with my purchase? Yes, yes, yes!!!
Why did I purchase it? Because I loved the colors and the theme. I don't really have little girl photos to scrap but I just had to have this in my stash.
Do I recommend buying the collection? Yes! If you have a daughter or you are into beautiful fairytale and princess stuff, don't hesitate – this collection is worth it.
Pages I've created with BIM First Kiss scrapbook collection: