Next up in my digital scrapbooking stash is the beautiful Cinderella-inspired #Believeinmagic: Glass Slipper Collection by Amber Shaw & Studio Flergs.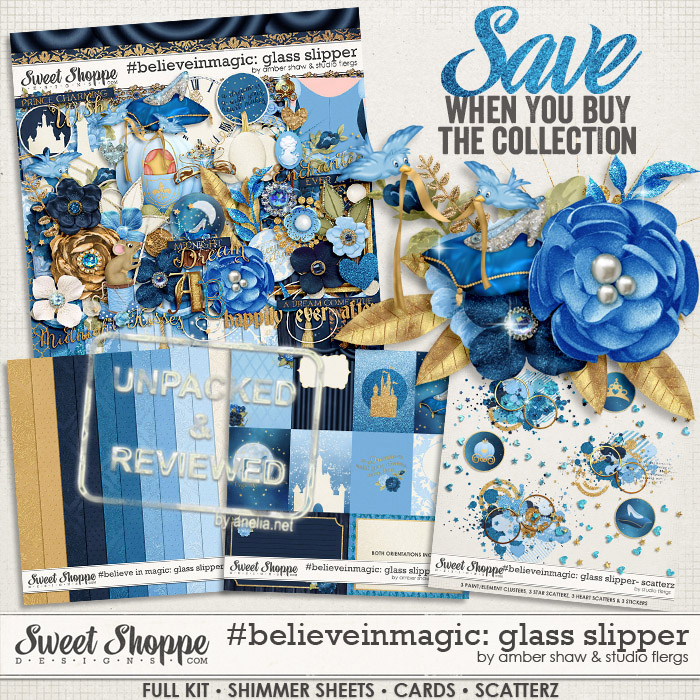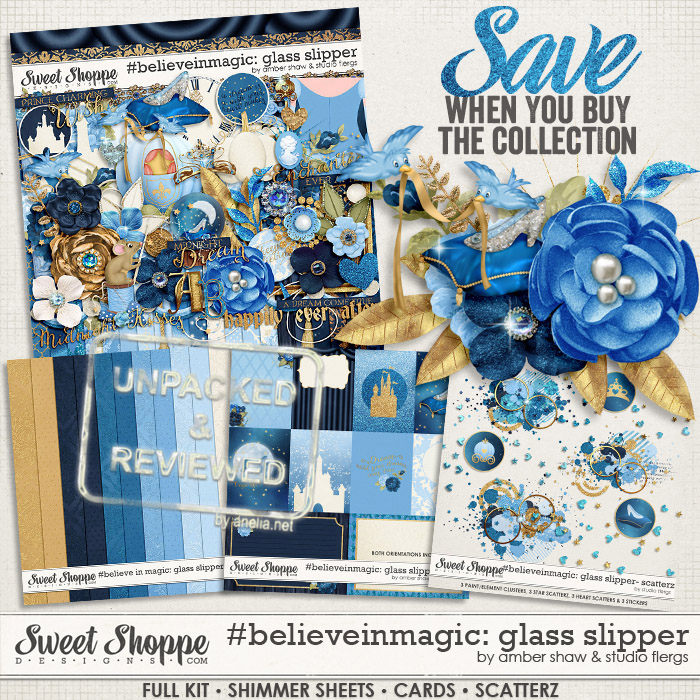 I clearly remember what I thought last year when I first saw this collection. My reactions was: "WHAT??? I gotta have this!!! Like NOW!"
I was truly mesmerised by those beautiful shades of blue and gold and the sparkly stuff just nailed it! The collection was sold to me before I even opened the additional page to see the description and sample pages.
Now without further ado, let's unpack this beauty and take a peek at what's inside…
PAPERS
Total: 38 papers = 20 patterned; 6 solids; 12 shimmers.
In my review of #believeinmagic: First Kiss Collection by Amber Shaw & Studio Flergs I showed a 100% zoom of the shimmers. These are exactly the same, only they are in the corresponding kit colors – golden, blue and beige/cream. The patterned papers are truly beautiful and there's a variety of wooden, starry, magical, vintage, satin/silk and florals.
Enough of the paper stuff! Let's move on to…
CARDS
20 cards total = 10 horizontal + 10 vertical direction
Pocket scrapping or not, these cards really add up to any layout because they are so versatile and pretty. Whether a Cinderella slipper, a Disney-inspired castle or a blank royal design card for journaling, these are sure to please you. I admit — I don't always use them but I'm so glad I have them!
ELEMENTS
74 elements total (includes a Cinderella inspired card which is NOT included in the cards pack above)
Elements are always the most important part of a kit to me because I love clustering. That's why I love finding a variety of flowers and leaves. The BIM Glass Slipper offers a pretty versatile collection of embellishments, word arts, word strips, frames and other beauties like sparkles, shiny and glittery stuff. There's also a good amount of themed elements like a Cinderella slipper, coach, birds, mouse, castle, pumpkin, clock and a tiara.
SCATTERZ
9 total = 3 pre-clustered and 6 shiny hearts/stars scatters.
As I said in my first review, the scatterz are a must-have to me because they enhance my pages effortlessly. Whenever I place one of those pre-made scatters behind my photo, I feel content and inspired. These really add up to the beauty and magic of those Disney or fairytale inspired pages.
Here's a closer look:
ALPHA
2 alphas total = 1 blue and gold UPPER case alpha; 0-9 number, punctuation symbols + 1 gold UPPER and lower case alphabet; 0-9 numbers and symbols
Last but not least is the alpha which is included in the kit. I've already said that I'm not a native English speaker. I actually use Cyrillic alphabet so I find Latin alphas not that usable. However, I adore beautifully done alphabets because I do use English in my page titles. Also, some of the Cyrillic letters look like those in Latin so I can be creative. The two versions of alphas included in BIM Glass Slipper are truly wonderful – they sparkles nicely on the page and add a special elegance to it. I admit I love gold stuff and that gold variation of the alpha with the nice bevelled edges really got me.
CONCLUSION
Was I satisfied with my purchase? Absolutely! This is really beautiful!
Why did I purchase it? Honestly, I didn't have photos for this kit but I just had to have it because it's beautiful. There must be a better word — it's stunning!
Do I recommend buying the collection? YES! This happens to be one of my personal favorites. Despite the fact I don't have themed photos for it, I find myself using the collection over and over again. What's more, it stretches my creativity because I try to find ways to scrap non-Cinderella or fairytale photos with it.
Pages I've created with BIM Glass Slipper digital scrapbook collection: